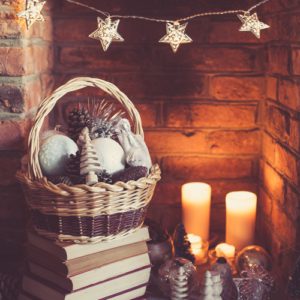 Nothing beats a warm, toasty fire on a cold, snowy day. But what if your fireplace is not working or not used? No problem! There are many creative ways to put that otherwise unused space to work for you. Here's a look at some of our favorites.
Turn it into a unique storage space
Not sure where to store those extra books? Why not use the fireplace? By adding shelving units to the inside of your fireplace, you can turn it into extra storage space that adds a unique focal point to your room.  Make it even more interesting by painting the interior of your fireplace a contrasting color or adding wallpaper.
Use it as a display
Do you own an interesting collection of vintage suitcases or glass terrariums? Make your collection even more inspiring by displaying them inside your fireplace. This works best with larger items that aren't easily breakable. Create a unified vignette and wait for the compliments to roll in from guests. Or do you own a fantastic piece of framed art? Use the fireplace interior as a backdrop to show it off.
Go fresh
Have you ever considered using the inside of your fireplace as a place to display flowers or plants? Instead of distracting from the interesting architecture of your fireplace, it can enhance and draw attention to it. Flowers can add color and dimension to your room while green plants can add freshness and soft lines. You can even go seasonal in your décor by displaying fresh pine sprigs or holly branches during the holidays.
Cozy it up with candles
Even if your fireplace isn't up the challenge of a roaring wood fire, you can still create a warm and cozy effect with candles. An arrangement of pillar candles can create the same romantic vibe in your room without the smoke, mess or hassle. This is a great solution for those with allergies. You can even switch out traditional candles for the electric variety, which is the perfect solution for homeowners with pets.
Stack firewood
Just because you can't have a fire doesn't mean you can't have firewood. Give that unused fireplace the feeling of wood fire by stacking logs inside. Choose logs that are the same length but with varying diameters, and pack them tightly to fill the whole space. The natural wood will give your room a rustic and homey ambiance.
Install a graphic screen
If you go for a more minimalist look and want to keep the clutter at bay, try installing a graphic screen against the back of your fireplace to match your room's décor. The screen can cover up any areas of the fireplace that are unsightly and add a visual pop to the room.
Create a bar
Do you enjoy entertaining? Then consider turning your beautiful, unused fireplace into a makeshift bar. Place a wine rack on the floor and display your favorite bottles. Place a small table over the top to store glasses and barware. At your next party, let guests serve themselves.